Police Brutality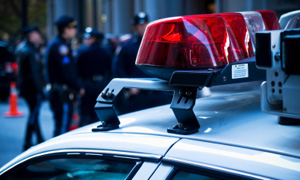 Utah Police Brutality Attorney
Are you in need of a police brutality lawyer? Police brutality charges deal with any law enforcement officer who has used unnecessary or excessive force, physically or verbally, as well as assault committed by the officer while dealing with civilians.
A badge and a uniform does not give police officers the right to abuse their power. No one should have to experience the physical, mental, and emotional pain that is inflicted by those who abuse their power. Attorney Chad B. McKay has achieved success in representing people who have had their lives affected by unconstitutional police brutality or governmental conduct. Contact him today to discuss your police brutality case. Whatever the circumstances, Chad McKay's knowledge, experience, and personalized approach will help you fulfill your legal needs. For a brief video featuring one of Chad's former police brutality clients, click here.
Representing Police Officers
While it is unfortunately true that some police officers abuse their authority, the law office of Chad B. McKay recognizes the exceptional service and work of the majority of Utah's police force. Attorney Chad McKay proudly represents police officers who have been victims of accidents or injuries sustained while on or off the job. We also have represented law enforcement in other cases such as wrongful termination, family matters, and almost all other areas of law.
Examples of police brutality include:
Excessive use of force
Unnecessary use of tasers
Unnecessary use of guns
Beatings with fists
Beatings with batons
Choking
Unnecessary use of pepper spray
Inappropriate use of police dogs
Body slamming or slamming someone's head against an object (wall, cement, vehicle, etc.)
Abuse of prisoner's rights
Other types of police misconduct and abuse
Law enforcement officers are not allowed to act with unreasonable or excessive force. This includes police officers, sheriffs, deputies, detectives and security guards. Law enforcement officers that use excessive force directly violate your Fifth and Fourteenth Amendments rights; however, these cases can be especially difficult to prove. You will need a lawyer with experience and a history of winning police brutality cases.  We will aggressively seek compensation on your behalf if you have suffered physical and emotional damages.
Call Attorney Chad B. McKay now for the efficient, personalized legal advice you need in your police brutality case.
(801) 621-6021